» Welcome
ESTHER McKAY joined the NSW police as an idealistic 21-year-old. Her amazing true crime book takes us inside a police forensic investigation unit - the unit first called to every grisly murder or accident scene. She provides a fascinating insight into the demands and pressures of this work, and reveals the terrible human cost of it in a way that has never been done before. About the Author: Esther McKay is a former Detective Senior Constable of the NSW Police, retiring Medically Unfit, Hurt on Duty in 2001. She holds a Diploma of Applied Science in Forensic Investigation.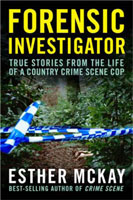 FORENSIC INVESTIGATOR **NEW**
True Stories from the Life of a Country Crime Scene Cop
Due for release 3rd August
Forensic Investigator follows the inspiring story of Geoffrey Bernasconi, a former Detective Sergeant and colleague of Esthers, who has been exposed to sights and experiences many of us can hardly even imagine, and yet has emerged from the darkness to begin his journey of recovery. More about the book.
CRIME SCENE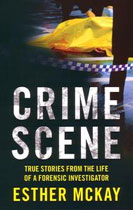 True Stories from the Life
of a Forensic Investigator
An excerpt of a review by
Dr Zoë Morrison, author of The Morrison Report
At first glance, Esther McKay's
Crime Scene: True Stories from the Life of a Forensic Investigator
appears to fit straight into this TV show genre. Billed as a book which 'takes us inside the life of a forensic investigator, and reveals as never before the extraordinary demands and dangers of forensic work', it taps into an apparently huge and seemingly insatiable market for entertainment based on all things evil, fatal and gory. What is remarkable, however, about McKay's
Crime Scene
is that, as well as appropriating this current 'crime scene' craze, it also turns it on its head, ultimately saying something very different and, to my mind, very important about crime, fatality and their effects [
full review]
. More
about the book
.
ESTHER McKAY awarded
The Pride Of Australia Medal for Community Spirit 2007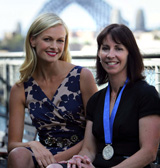 The Pride of Australia Award program was launched in 2005. The award honours everyday Australians who have made extraordinary contributions to their communities through their selfless actions, courage, compassion and heroism. Pride of Australia is the Daily Telegraph and the Sunday Telegraphs way of bringing to public attention these unsung heroes of our community. Photo courtesy: James Elsby, Daily Telegraph
Read full story