FORENSIC INVESTIGATOR
True Stories from the Life of a Country Crime Scene Cop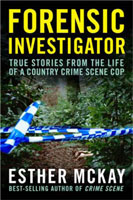 Forensic Investigator chronicles the life of Geoff Bernasconi, a policeman from rural NSW. From the earliest days of his career, Geoff quickly gained a reputation as a hard-working officer who always went beyond duty to support the victims of crime and their families. One horrendous night in 1984, Geoff was called to investigate the scene of a terrible car accident that wiped out an entire family – a scene impossible to forget.
He worked days on end, slept in his office, rarely saw his family but still turned up to the office wearing his signiture 'Mr Happy' tie. Geoff witnessed scenes that will haunt him for the rest of his life – the Young Plane Crash in central NSW, the drowning of young twin boys and the murder of an 18-year-old girl. His personal life was non-existent and his day-to-day working life became a catelogue of tragedy. Overworked, under resourced and denied the vital support to assist him to deal with the stress and trauma he suffered over the years, Geoff eventually succumbed to post-traumatic stress disorder.
Forensic Investigator follows the inspiring story of someone who has been exposed to sights and experiences many of us can hardly even imagine, and yet has emerged from the darkness to begin his journey of recovery.
Esther Mckay is a former Detective Senior Constable of the NSW Police, retiring Medically Unfit, hurt on Duty in 2001. She holds a Diploma of Applied Science in Forensic Investigation. Esther was the recipient of the 2003–2004 Australian Society of Authors mentorship program, where she worked with Gabrielle Lord on the manuscript of Crime Scene. Esther was awarded The Pride of Australia Medal for Community Spirit in 2007. This medal honours ordinary Australians who do extraordinary things in our community.
A raw and powerful story that takes you inside the world of a forensic investigator.
"He pulled the tarp over the car, and as he leant over one section, he was repulsed by the sight of a clump of human flesh caught in the twisted metal. It was yet another reminder of what he'd just seen at the morgue and was about to see the next day…"

An excerpt from the book